Can you guess...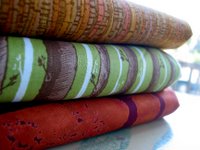 what the theme of this WIP is? Think fairy tale.
Looking at this stack makes me wonder about other people's stashes. I feel like my pieces of stash look bulky and not neatly stored compared to everyone else. Are y'all just buying little fat quarters? Two-yard lengths just don't display like those tidy piles I see around the craftosphere. I'd like to have tidy piles, too, but I definitley can't make my self a shirt out of a fat quarter.
First correct guess about the fabric wins a little surprise something.
Speaking of winning — Joanna never claimed her sweater apron prize. Joanna, if you are out there, please drop me an email, so I can send it off. I'll wait a couple more days, until Friday, Oct. 3, then I'll draw another name.
Labels: fabric