Solstice Calendar: The Influence of Books
Day 3: The Owl Mama Comes Back


A couple of books have influenced the early design direction of the calendar. The first,
Owl Babies
, which I mentioned in the last post, is a simple tale of three baby owls who miss their mama. It's a popular book in preschools and around our house. It's helping me with my goal of one day getting to leave preschool.
While
the owl babies waited
patiently for their mama, I got to work on designing her. She needed to be flat for a couple of reasons: first, she needed to be able to fit in the nest with the babies; and, second, she needed to be able to fly. I decided on making her out of one layer of felt — not stuffed — that way she'd be able to wrap her wings around the babies.
My local, crafty friend,
Bethany,
gave me some suggestions on using wool yarn for needle-felting the details. I just happen to have a shoe box full of darning yarn, which turned out to be a handy needle-felting palette. I've always wondered what I'd use the vintage bits of yarn for, since I don't darn. Enter needle-felting! All I needed to do was take up a new hobby. Another fine example of why one should never get rid of anything. ;)
For the mama owl I made a sketch first — I wanted to make sure she'd fit in the tree. It took a couple of tries. Next came the felt details and a little embroidery for the face, then the needle-felted yarn for the feathers on the body.
The Owl Babies book, the sketches, and the cut felt pieces for the mama owl.
The box of mending yarn, and the mama owl getting her feathers at my needle-felting station. I've since purchased a different kind of foam. Not sure if the new one works any better.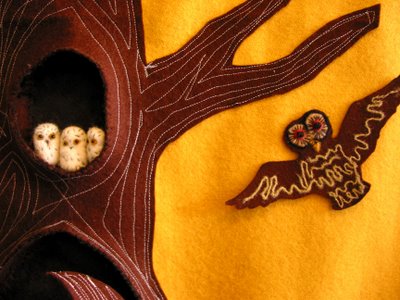 Mama owl flying home to Percy, Sarah, and Bill.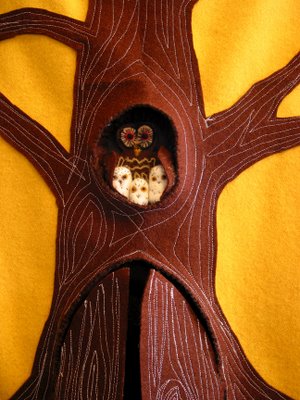 Mamas always come back.


---------------

Day 4: All That The Rain Promises


The second influential book I wanted to talk about is,
All That The Rain Promises: A Hip Pocket Guide to Western Mushrooms
.
I know, that for the most part, the US is full of people who are afraid of wild mushrooms.
David Arora
, who has written two of
my favorite
field guides
to mushrooms, calls this condition "fungophobia," which we apparently caught from being a former British colony. Arora writes, "This irrational fear of fungi is by no means a universal trait. The media and medical profession have done their part to perpetuate it, but they are certainly not responsible for its origin. To a large extent, we inherited our
fungophobia
from the British."
All That The Rain Promises
is the smaller of David Arora's books. It's the book that you take with you when you are out in the field, or forest as it were. It's the book that, with the help of my friend, taught me the basics of identifying wild mushrooms. While it might not be an obvious design correlation, Arora's books have influenced my life in many wonderful ways: by giving me inspiration to get out into the woods; by freeing me to study, touch and smell mushrooms; and, by educating me enough to feel comfortable eating them. And, if I need any ideas for the many needle-felted mushrooms I'm planning on making, I know where to look.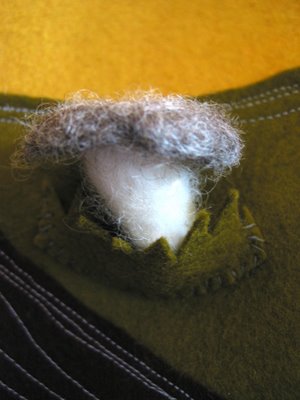 Labels: "Solstice Calendar"