Boys and Toys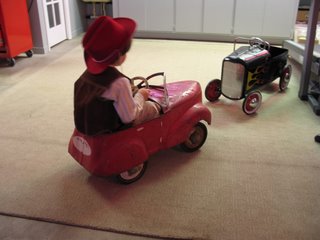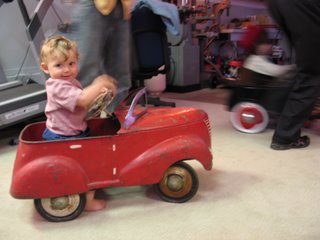 Not much crafting going on around here. I've been cleaning my
craft area
, which took two whole days — sorted a
mess of fabric
by color and realized that I could sew for two years straight and not need to buy anything new. Help, someone stop me.
And, we're in the middle of birthday season around here, with five birthdays in about five weeks. These photos were taken by
my sister
at my dad's birthday party. My dad has been trying for years to find the pedal car of his childhood and he finally got one — handy timing for the grandkids. At the same time he bought one to match his current hotrod. He specializes in '32 Ford roadsters with vintage speed equipment. My sister pointed out that my dad is obsessed with the past, which made me realize our interest in vintage isn't that surprising. The apple doesn't fall from the heritage tree, as it were.