Aloha Aloha: New Shirt From Old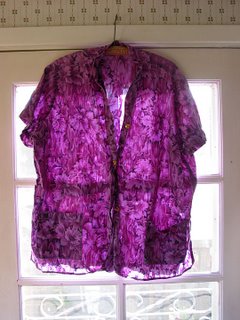 Aloha, my dear vintage shirt, until we meet again. I have worn and loved you till you were holey, faded, and threadbare. Buttons are missing and you are patched with at least five colors of thread. Thank you for being a good gardening and barbecue companion.
An evening date with the seam ripper taught me a lot about you. There was no consistency of seam. There were at least three different widths of seam. I wouldn't call you well made. Who was your maker? You looked homemade, but you had a tag that said, La Rosa San Francisco.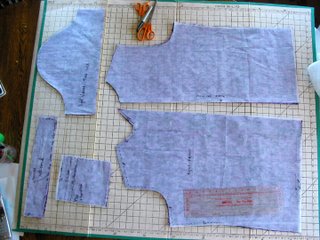 I made a pattern by tracing your pieces onto pattern paper. The grid really helped make straight lines. I wrote notes to myself on the pieces about the random seam widths.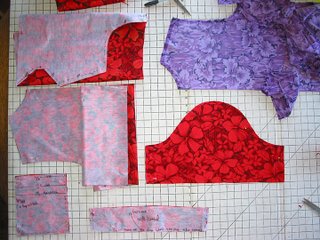 I cut out pieces from vintage red fabric that just happens to be the same brand, VHY Hawaiian. What serendipity! I didn't know about the coincidence until I started looking at your seams. This new old fabric was a gift from Kathy who was cleaning out her 80-something mom's house. Thanks, Kathy!!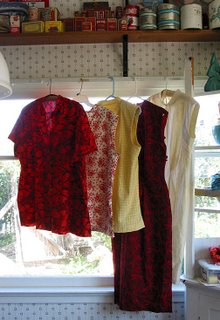 Here is your replacement, your clone — that *RED* one in the front. It's not all the way finished, but is taking on more and more of your look with each detail. I will use your remaining buttons intermixed with some that I have. I can already tell that it won't be the same, not so soft and comfy, too bright. Maybe after a couple hundred washings it will feel like you. Aloha old friend.
P.S. Thanks for all the empathy on the last post. We're feeling much better around here. Actually, for someone who leans towards depression, I'm surprised how rarely it makes an appearance now that I'm a mom. I guess I'm too busy. ;)
Labels: New Vintage Wardrobe, sewing, Vintage Fabric, Wardrobe Refashion