Hello Craft Bloggers!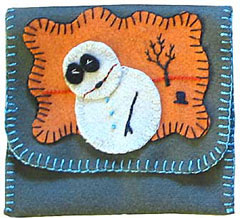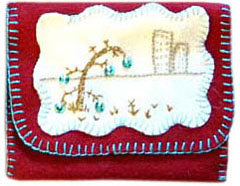 After many months of lurking in the crafty blog world I've decided to start my own, which is proving to be bit challenging on my outdated Mac OS system. But the allure of the craft community is stronger than my I-don't-want-to-upgrade-my-system laziness. I want to thank all you crafty bloggers for giving me entertainment, inspiration, and an overall energy boost--each very necessary for me after my 2005 crafting rollercoaster.
2005 was a very crafty year for me. My child was old enough to allow me some craft opportunities, as well as enough time to co-host an alterna-craft fair called
¡CRAFTALICIOUS!
The fair was great--we had over 50 vendors, over 1200 attendees, and a full-page color
article
in the local newspaper. The only real complaint was that it was crowded and sweaty. I made new crafty friends--I felt like I had found my people. But nobody warned me of post-show letdown. Actually, Leah, from
Craftster
, who had been generously answering my questions, told me that after her first
Bazaar Bizarre
show she couldn't even say the BazBiz words for months . At the time I didn't understand; I was riding the high of manic anticipation. But, after the show, I went through several months of craft depression. I was directionless. I only had the energy to do some silly
felt portraits
of gender-bending saints. Everyone was asking when the next show would be, but it didn't seem right to consider embarking again on a project where two people worked full time on a craft fair for five months, neither financially wise nor fair to the craft widows and orphans the time commitment had created. So, after wallowing in my depression for awhile, my crafting co-hort Meghan and I decided to apply for a local craft fair only to be denied by a committee that liked mohair teddy bears better than our
kanzashi
and George Bush
toilet paper cozies
. Luckily the rejection did not set off another bout of depression; I couldn't really get with the teddy bears, so why would I think they could get with our stuff. To each their own craft fair.
Enter the crafty and arty blog world. I fell in love with it as soon as I googled for a children's pants tutorial and found
Red Current
: a stay-at-home mom who admits to letting her children watch videos so that she can find time to craft. She only cleans for 20 minutes a day. Her photos are beautiful. What's not to love. I've made six pairs of pants based on her
tutorial
. From there I went to
Angry Chicken
and was immediately impressed with her
small quilts
. I was inspired to make a few for Christmas presents, but enjoy hers more. After seeing Susie's
little paintings
I did a 12 Days of Christmas
series
and was in my first art show since college. Recently I bought
Jess' book
and am excitedly anticipating learning to knit on double-pointeds. And, today I bought
Camilla's calendar
, which brings me up to date, literally and figuratively. I'm looking forward to posting more photos of things I make and hope to be an active part of this crafty community. Thanks again for everything.
The photos above are of a Dreary Xmas wallet series I did last winter. Somehow sad Christmas makes me happy.